My Team
As a Financial Representative for the Northwestern Mutual, I am committed to helping my clients whether they are concerned for their own financial needs or those of their family or business. I don't do it alone. Here you will find a listing of the people who help make it happen.
Together, we stand committed to providing the best customer service possible. If you have a problem or need assistance at any time, please let us know.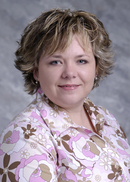 Mandy P Glover
I have been with Northwestern Mutual since the spring of 2012.  I wear many hats here, but the one most important to me is that of customer service.  My main goal is to make sure that you have the best service I can give. 
I have been married to the love of my life, Chad, for 22 years and we have three beautiful daughters, ages 20, 18 and 15.  I am an avid marching band, competition cheerleading, and softball mom.  In my spare time, I enjoy reading, dabbling in photography and whipping up awesome meals for my family and friends.